Brent Teague- Assemblies of God World Missions (AGWM)
Dennis Wilson has been donating to Assemblies of God World Missions to partner with them in building tabernacle churches in West Africa. A Tabernacle is a set of steel trusses and a roof system able to be easily constructed, providing immediate use. A standard tabernacle is 35' x 55' and can seat about 250 people. Each tabernacle costs $7,000 to fabricate and erect. A kids' church tabernacle is 17' x 55' and can seat 150 children. The kids' tabernacle cost $3,000. A tabernacle does more than just provide something material for a church. It provides a safe, permanent place for a community to have an encounter with Jesus.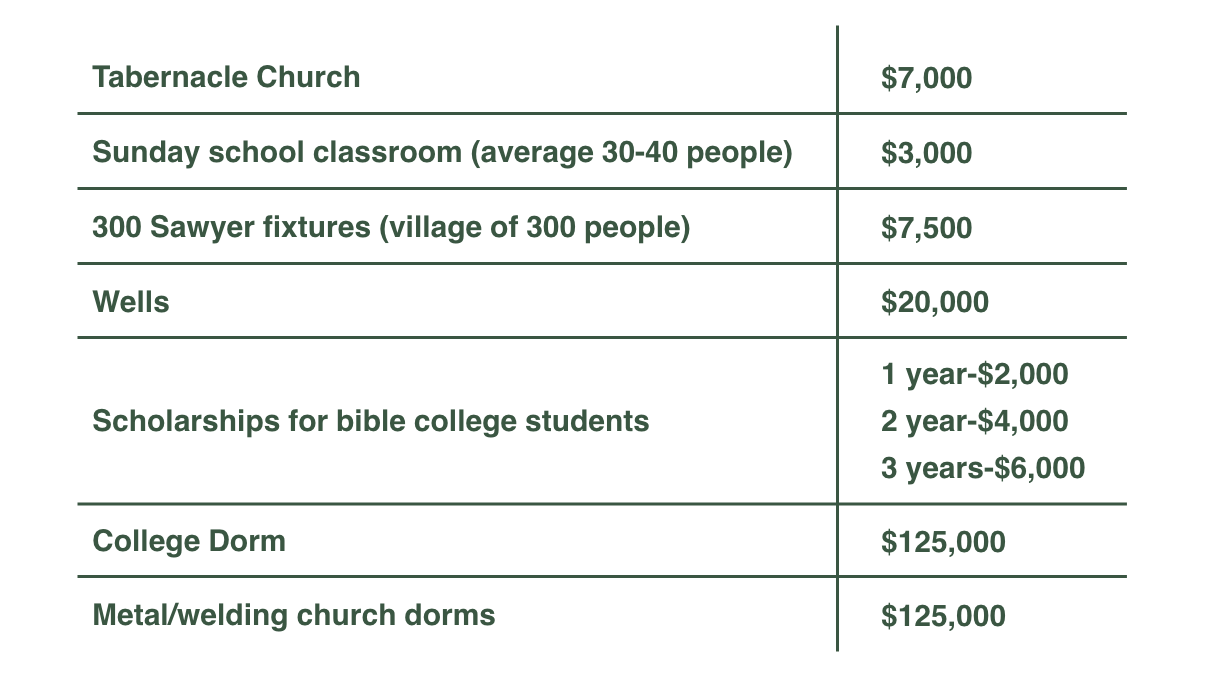 Information
Contact Jim & Shelley Teague:
Website is www.teague-missions.com.
Direct donations to purchase tabernacles can be made online at: https://giving.ag.org/donate/600001-475756
Mail donations can be made at:
Assemblies of God World Missions
West Africa Area Dir #475756
1445 N. Boonville Ave.
Springfield, MO 65802
Make checks payable to AGWM West Africa
"Preborn is a ministry committed to "Saving Babies and Souls." They specialize in living out faith in Christ by offering pregnant women the opportunity to see their preborn child for the first time using ultrasound technology.
Abortion clinics often claim that a pregnant woman would be "traumatized" by seeing these images before aborting their child but Preborn knows that the miracle of the ultrasound gives an expectant mom the opportunity to "meet" her preborn baby for the first time and hear his or her heartbeat. And women who have this powerful experience wind up choosing life for their baby more than 80% of the time they visit a Preborn Health Center. Last year alone, Preborn helped to save over 50,000 babies - AND more than 8,000 expectant moms came to faith in Christ as a result of the ministry they received at a Preborn Health Center!
There are 3 ways you can help support this ultrasound ministry:
Make a one-time donation to Preborn ro provide ultrasounds to expectant mothers. It costs $28 per ultrasound to make that possible - so a one-time gift of $28 saves one life, $140 saves five; $280 saves 10, $2800 saves 100;
Make a monthly commitment of $28 per month to help save 12 babies during the course of one calendar year (through a recurring donation of less than $1-a-day)
Contribute to help provide funding for one brand new ultrasound machine for a Preborn Health Center. Cost is $15,000 per machine but each unit is able to provide 250 ultrasounds per year for at least 10 years.
During a recent on-air radio campaign, Wilson Financial Services teamed up with listeners from The Bottom Line with Roger Marsh radio show to fund one brand new ultrasound machine for a local center - and we did so in only 3 hours of air time!
Click the link below to make a donation to Preborn today!
https://give.preborn.com/preborn/radio?sc=WKBRT0922RA
Preborn is a recognized 501(c)3 charity which means your gift is tax-deductible . . . and 100% of the money you donate to Preborn goes to providing ultrasounds for expectant mothers. (The ministry conducts other fundraising campaigns to cover operational expenses.)"
Ready to Take The Next Step?
For more information about any of our products and services, schedule a meeting today.